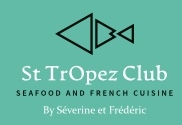 St Tropez Club Membership
Annual Membership costs £200
Provides £200 of vouchers to be used against purchases in St Tropez Club or St Tropez lounge. You may use up to £50 of these vouchers on each visit.
Enables you to book tables in the St Tropez Club for you and up to 3 accompanied guests. Your membership card will allow your group to access the club for a pre-booked timeslot.
The club can be found at 3 High Street, Poole. It is open evenings on Tuesday - Saturday, and also from noon on Saturday and Sunday (closed Mondays)
We have 4 private booths. Each seats 6 guests comfortably, 10 more casually. These have HIGH SEATING, like bar seating, comfortable, but please ensure this will be suitable for your group.
There is a special Oyster, Tapas and Wine and Cocktail menu
Memberships are limited and subject to terms and conditions
Just complete the form below and make payment.
Once your application has been approved and we have received payment, your vouchers and membership card will be sent by email (usually within 48 hours).
We much appreciate your support. We are excited to have opened the St Tropez Club and hope that you will enjoy this extra special experience.
Severine, Frederic and L'Equipage